industry links
Our twenty years in the cleaning industry has been a blessing. We've met a lot of great people and made a lot of wonderful friends along the way. We'd like to introduce you to a few.


VacAway Products
(877) 333-9964

Having known Steve since 1997, as well as being a satisfied VacAway customer, we highly their products. VacAway manufactures a full line of truly unique encapsulating products you'll enjoy using because, in addition to being some of the most effective products we use, they're guaranteed to leave ZERO sticky residue. From POG spotters, to deodorizers, to Encapsulating Low-Moisture cleaners, presprays and extraction detergents, to specialized stain removal products....and , a few more things in between....they're, in our humble opinion, the absolute go-to folks for all your cleaning needs. Need a little more convincing? Why not call or visit them online today and ask for your FREE sample kit. Seeing is believing!
---
Totally Booked University
by The Cleaning Professor, (740) 919-0228
Long-time friend and cleaning colleague, not to mention he's also the Senior Editor of Cleanfax Magazine, Jeff Cross brings years of experience and a unique insight to his technical and marketing seminars, books and manuals. We hear Jeff's Totally Booked TM University Seminar promises to be a power-packed day brimming with relevant, useful tips and tricks to keep your schedule, well, Totally Booked! Be sure to visit CleaningProfessor.com for a schedule of upcoming events. And, don't miss the handy reference guides available at the Cleaning Professor's online store.
---
Strategies For Success (SFS)
Jon-Don, Steve Toburen, Bill Yeadon, Chuck Violand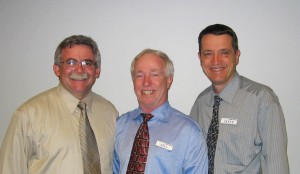 For many of us, being a great carpet cleaner is easy. Running a great business, on the other hand, is easier said than done. And, that's what SFS is all about, learning the nuts and bolts of running a successful business. There's nothing else quite like SFS and no better team of industry experts to show you how.
A comprehensive 5 day course, SFS is designed to teach you everything from marketing to hiring to turning your customers into cheerleaders and more. Simply put, in our humble opinion, this truly unique program is one of the best training values in the industry and a smart investment in your future and in your business.
Visit the SFS website for a treasure trove of tips, ideas, encouragement and all around great stuff!